GeForce Now lost all Activision Blizzard games due to an Nvidia blunder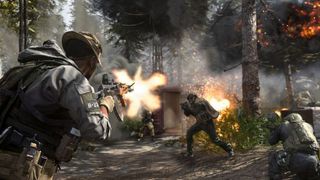 (Image credit: Infinity Ward)
Activision Blizzard's library of games disappeared from GeForce Now shortly after the game streaming service was officially launched, but it seems like that might have been Nvidia's fault, after all - in terms of a misunderstanding over the terms of the deal between the two firms.
At the time, Nvidia didn't give an actual reason as to why all Activision Blizzard's titles were dropped from the service, but in a statement noted that this was "per their request", and that it was "unfortunate".
However, Nvidia has told Bloomberg that the reason for the move was a misunderstanding in that it believed the agreement with Activision Blizzard regarding its involvement in the beta of GeForce Now applied to the initial post-launch trial period of the service, too (in other words, the first three months of going live).
Evidently this wasn't the case, and Activision Blizzard wanted some kind of a commercial agreement (which sounds sensible enough, let's face it) before proceeding to the full launch of GeForce Now, and this didn't happen - hence the publisher requested its games library to be pulled.
This seems like a pretty big oversight, one way or another, but it perhaps does give some hope to GeForce Now subscribers - those who signed up to play the likes of the Call of Duty games, Sekiro: Shadows Die Twice, Overwatch, World of Warcraft and many more besides - some hope that the issue might be resolved.
When Nvidia first announced that the games had been dropped, the company said that it hoped "to work together with Activision Blizzard to re-enable these games and more in the future".
Nvidia repeated that sentiment in another statement published by Bloomberg: "Recognizing the misunderstanding, we removed [Activision Blizzard's] games from our service, with hope we can work with them to re-enable these, and more, in the future."
Returning to the fold
So perhaps, at least theoretically, there is no reason why these games might not return, given that Activision Blizzard was certainly happy enough to be part of the beta test. But of course an agreement will need to be hammered out, and who knows how many hurdles might stand in the way on that front. The use of a word like 'hope' in Nvidia's statement doesn't inspire full confidence, either.
If the situation was rectified, that would go a long way to restoring the faith of those who specifically subscribed to GeForce Now and bought games like the latest episode of Call of Duty ( Modern Warfare) to play via the service (those whose own PCs aren't up to the task of running these titles).
Remember that the key to GeForce Now is that you're effectively paying to rent a powerful gaming PC you can connect to remotely - you still have to buy all the games you wish to play yourself (and they have to be supported by GeForce Now, of course).
The incident has served to highlight one of the major potential weaknesses of Nvidia's service, in that if publishers do turn around and decide they no longer want to be involved with GeForce Now, those who bought specific games to play solely on the streaming service are obviously out of luck.
Via PC GamesN
au.socialdc.org top-stories GeForce Now lost all Activision Blizzard games due to an Nvidia blunder
Related News
What's your favorite game? (photo: Sony). The Monday Inbox wants to know what is Rocksteady's new multiplayer game, as a reader expects to play 8K on PS5 and Xbox. Advertisement. To join the discussions, send an email to [email protected]
Not only are we looking for the best PS4, Xbox One and PC games of 2019, but we're also hunting down the best prices on each so you can bag some cheap games deals on last year's best sellers. If you've recently picked up a cheap console, or you're ...
Where do we get one? Alex Rodriguez's tribute to Jennifer Lopez after her Golden Globes 2020 loss was #FiancéGoals. ICYMI, J-Lo was nominated in the Best Supporting Actress in a Motion Picture category for her role as Ramona Vega in Hustlers.
Square Enix has delayed "Final Fantasy" and "Marvel's Avengers," two of its biggest upcoming games of 2020. "Final Fantasy VII Remake" will be delayed from March 3 to April 10. "Marvel's Avengers" has been delayed from May 15 to September 4. Square ...
This is GamesRadar's month-long preview of what will be big in 2020: New games, new hardware, and so much more.
More News in top stories
Spirit Airlines Inc. [NYSE: SAVE] price plunged by -1.57 percent to reach at -$0.7. A sum of 730948 shares traded at recent session while its average daily volume was at 1.16M shares. Spirit Airlines Inc.
Kim Clijsters produced a remarkable display in her first WTA match in nearly eight years, which ended in a 6-2 7-6 (8-6) defeat by Australian Open finalist Garbine Muguruza in Dubai. The Belgian, 36, went toe-to-toe
Manchester United will move to within three points of fourth-placed Chelsea in the Premier League with a victory tonight. United go into the game positioned ninth in the standings but will rise to seventh if
In a battle between former World No.1 players, Garbiñe Muguruza ousted Kim Clijsters in the Belgian's first match since 2012, earning a first-round victory at the Dubai Duty Free Tennis Championships. DUBAI, UAE -- A hotly